Cleaning Tristan's Grave Dada Exercise - Paris, France
by Margaret Bellafiore - June 13, 2018
I found Tristan's grave today at Montparnasse cemetery. It was hard to find as it was overgrown. I cut some branches off and threw some dead plants out (about six that had been dead in pots for awhile). Some people came by looking for the pere of dada.

Margaret Bellafiore - Cleaning out grave
The grave of the pere de dada all clean by Margaret Bellafiore
Dada Actions - Dewey Square, Boston, MA, USA
by Jimena Bermejo, Milan Kohout, Sandrine Schaefer, Zayde Buti
June 14, 2018
Joanne performing her version of Milan's score:
Carry a glass filled with water in your hand.

Ask somebody on the street If he/she believes in god.

If they do, ask them If they can ask their god to order the pouring water from your glass not to fall down toward the ground but to pour up toward heaven.
Jane and James Performing Milan's Score: Prop: two chairs

In order to justify the more stuff and wealth that you really need for your life try to sit with your "one" ass on the two chairs.

But you have to sit with the full ass on either chair at the given moment.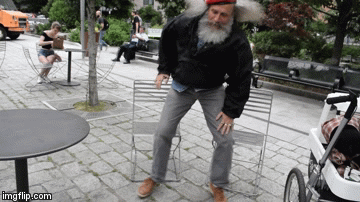 MILAN'S DEMONSRATION AFTER SEVERAL FAILED ATTEMPTS

THE DADA SCORES

Milan performing Zayde's dada action:

If not now, when?
...then.
J
ane
Performing Jimena's Dada Actions:
Do a combination of these actions, use repetition:
stand on one foot, sit down, look left, run around yelling:
"you love me, you love me not", or "you love me, you love me know",
raise one arm.
Jane and Joanne performing Sandrine Schaefer's dada action:
Return your vision to what is directly in front of you and to your periphery.
Recite a list of every color you see and/or sound you hear.